Lifts in the holiday region of Castelrotto in the Sciliar area
Winter sport lovers and hikers can easily reach the slopes and the hiking paths thanks to the large range of lifts in Castelrotto
The Marinzen lift takes you from the center of Castelrotto directly to the skiing area of Marinzen, a practical slope for beginners as well as for advanced skiers.
The Marinzen alp, starting point of delightful hikes to the Bullaccia plateau in the Sciliar area, can easily be reached by chairlift during summertime.
The Alpe di Siusi cablecar is located close to Castelrotto.

Chairlift Marinzen in Castelrotto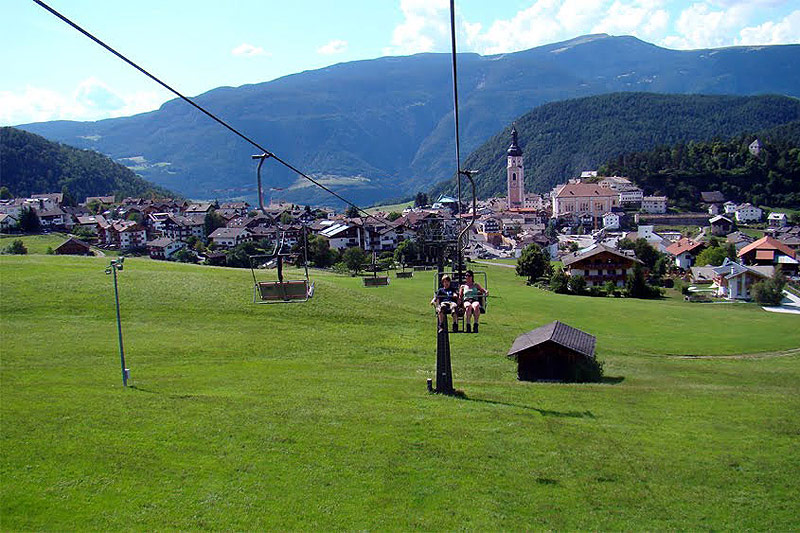 Impianti di risalita Marinzen Srl
Panider street, 26 - 39040 Castelrotto (BZ)
Dolomites - Italy
Tel. +39 0471 707160
Visit the website >
Cableway Alpe di Siusi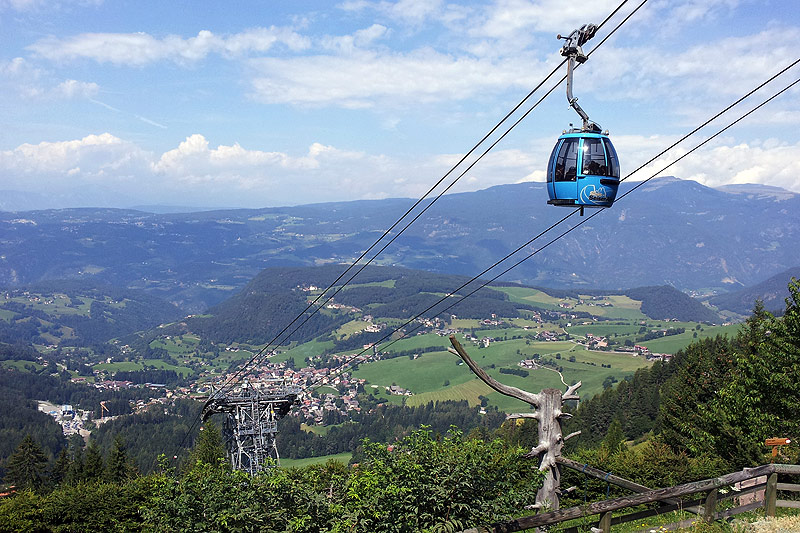 Seis-Seiser Alm Aerial Cableway
Sciliar street, 39 - 39040 Siusi allo Sciliar (BZ)
Dolomites - Italy
Tel. +39 0471 704270
Ortisei - Palmer - Furdenan
Nr.
Lift name
Type
State
Season
Hours
1
Ortisei - Alpe di Siusi


Gondola

C

Closed

12/03/21 - 04/09/22
08:30 - 17:00
6
Furdenan


Ski lift

I

Closed

12/03/21 - 04/09/22
08:30 - 16:30
7
Palmer


Ski lift

I

Closed

12/03/21 - 04/09/22
08:30 - 16:30
59
Al Sole


Chairlift 2

G

Closed

12/21/21 - 04/09/22
09:00 - 17:00
60
Monte Piz - Rif. Icaro


Chairlift 4

P

Closed

12/03/21 - 04/09/22
09:00 - 17:00
61
Steger/Dellai


Chairlift 2

G

Closed

12/03/21 - 04/09/22
09:00 - 17:00
62
Panorama


Chairlift 6

Q

Closed

12/03/21 - 04/09/22
08:30 - 17:00
63
Bullaccia


Telemix

L

Closed

12/03/21 - 04/09/22
08:30 - 17:00
64
Spitzbühl


Chairlift 2

G

Closed

12/03/21 - 04/09/22
09:00 - 17:00
65
Florian


Chairlift 4

P

Closed

12/17/21 - 04/09/22
09:00 - 16:45
66
Ludy


Ski lift

I

Closed

12/03/21 - 04/09/22
09:00 - 17:00
67
Leo Demetz


Chairlift 2

G

Closed

12/03/21 - 04/09/22
09:00 - 17:00
68
Sanon


Chairlift 2

G

Closed

12/03/21 - 04/09/22
09:00 - 17:00
69
Mezdì


Chairlift 6

Q

Closed

12/03/21 - 04/09/22
09:00 - 17:00
70
Floralpina


Chairlift 4

P

Closed

12/03/21 - 04/09/22
09:00 - 16:45
71
Punta d'Oro


Chairlift 4

P

Closed

12/03/21 - 04/09/22
09:00 - 17:00
73
Laurin


Chairlift 4

P

Closed

12/03/21 - 04/09/22
08:30 - 17:00
74
Paradiso


Chairlift 6

Q

Closed

12/03/21 - 04/09/22
09:00 - 17:00
75
Bamby


Chairlift 6

Q

Closed

12/03/21 - 04/09/22
09:00 - 17:00
76
Eurotel 1


Ski lift

I

Closed

12/03/21 - 04/09/22
09:00 - 17:00
77
Euro


Chairlift 4

P

Closed

12/03/21 - 04/09/22
08:30 - 17:00
78
Strega


Ski lift

I

Closed

12/03/21 - 04/09/22
09:00 - 17:00
83
Siusi - Alpe di Siusi


Gondola

C

Closed

12/03/21 - 04/09/22
08:00 - 18:00
Ortisei - Resciesa - Seceda - Col Raiser - S. Cristina
Nr.
Lift name
Type
State
Season
Hours
2
Ortisei-Furnes


Gondola

C

Closed

12/03/21 - 04/09/22
08:30 - 16:15
3
Furnes - Seceda


Cable car

A

Closed

12/03/21 - 04/09/22
08:30 - 16:15
4
Resciesa


Cable railway

M

Closed

12/22/21 - 04/09/22
09:00 - 16:00
8
Fermeda


Chairlift 4

P

Closed

12/03/21 - 04/09/22
08:30 - 16:30
11
Gherdeina Ronda


Underground ropeway

D

Closed

12/03/21 - 04/09/22
08:30 - 16:05
12
Cisles


Chairlift 2

G

Closed

12/03/21 - 04/09/22
08:30 - 16:00
14
Col Raiser


Gondola

C

Closed

12/03/21 - 04/09/22
08:30 - 16:10
16
Plan da Tieja


Ski lift

I

Closed

12/03/21 - 04/09/22
08:30 - 17:00
81
Catores Martin


Chairlift 2

G

Closed

12/03/21 - 04/09/22
08:30 - 16:15
S. Cristina - Monte Pana
Nr.
Lift name
Type
State
Season
Hours
15
S. Cristina - Monte Pana


Chairlift 2

G

Closed

12/17/21 - 04/09/22
08:30 - 16:30
21
Tramans


Chairlift 2

G

Closed

12/03/21 - 04/09/22
09:00 - 17:00
23
Mont de Seura


Chairlift 4

P

Closed

12/03/21 - 04/09/22
08:30 - 16:20
24
Tschucky


Ski lift

I

Closed

12/03/21 - 04/09/22
08:30 - 16:00
26
Puntea


Ski lift

I

Closed

12/03/21 - 04/09/22
08:30 - 17:00
27
Cendevaves


Ski lift

I

Closed

12/02/21 - 04/09/22
08:30 - 16:30
28
Parallel


Ski lift

I

Closed

12/02/21 - 04/09/22
08:30 - 16:30
Selva - Dantercepies
Nr.
Lift name
Type
State
Season
Hours
25
Val


Chairlift 2

G

Closed

12/03/21 - 04/09/22
08:30 - 16:30
30
Dantercepies I


Gondola

C

Closed

12/03/21 - 04/09/22
08:30 - 16:30
31
Costabella


Chairlift 4

P

Closed

12/03/21 - 04/09/22
08:30 - 16:30
32
Nives


Ski lift

I

Closed

12/03/21 - 04/09/22
08:30 - 17:00
34
Larciunei


Ski lift

I

Closed

12/17/21 - 04/09/22
09:00 - 16:30
35
Cadepunt


Ski lift

I

Closed

12/03/21 - 04/09/22
08:15 - 17:00
36
Biancaneve


Ski lift

I

Closed

12/03/21 - 04/09/22
08:30 - 17:00
37
Risaccia 1


Ski lift

I

Closed

12/03/21 - 04/09/22
08:15 - 16:30
37
Risaccia 2


Ski lift

I

Closed

12/03/21 - 04/09/22
08:15 - 16:30
40
Dantercepies II


Gondola

C

Closed

12/03/21 - 04/09/22
08:30 - 16:30
40
Mickey Mouse


Moving Carpet

S

Closed

12/03/21 - 04/09/22
08:30 - 16:30
41
Cir


Chairlift 4

P

Closed

12/03/21 - 04/09/22
09:00 - 16:30
42
Val Setus


Chairlift 4

P

Closed

12/03/21 - 04/09/22
08:30 - 16:30
43
Panorama


Ski lift

I

Closed

12/03/21 - 04/09/22
09:00 - 16:30
S. Cristina - Ciampinoi - Selva
Nr.
Lift name
Type
State
Season
Hours
17
Saslong


Gondola

C

Closed

12/03/21 - 04/09/22
08:30 - 16:30
18
Sochers/Ciampinoi


Chairlift 6

Q

Closed

12/03/21 - 04/09/22
08:30 - 16:45
19
Sochers


Chairlift 4

P

Closed

12/03/21 - 04/09/22
08:30 - 16:30
38
Campo Freina


Ski lift

I

Closed

12/17/21 - 03/30/22
08:30 - 16:30
39
Terza punta


Ski lift

I

Closed

12/03/21 - 04/09/22
08:30 - 16:30
84
Ciampinoi


Chairlift 2

G

Closed

12/03/21 - 04/09/22
08:30 - 16:30
Selva - Plan de Gralba
Nr.
Lift name
Type
State
Season
Hours
33
Fungeia


Chairlift 3

H

Closed

12/03/21 - 04/09/22
09:00 - 16:30
44
Piz Sella


Cable car

A

Closed

12/01/21 - 04/09/22
08:30 - 16:30
45
Piz Seteur 1


Gondola

C

Closed

12/01/21 - 04/09/22
08:30 - 16:30
46
Piz Seteur 2


Gondola

C

Closed

12/01/21 - 04/09/22
08:30 - 16:30
47
Plan de Gralba


Ski lift

I

Closed

12/02/21 - 04/09/22
09:00 - 16:30
48
Piz Seteur/Sole


Chairlift 4

P

Closed

12/03/21 - 04/09/22
09:00 - 16:30
49
Città  dei Sassi


Chairlift 4

P

Closed

12/01/21 - 04/09/22
08:30 - 16:30
50
Gran Paradiso


Chairlift 8

R

Closed

12/01/21 - 04/09/22
09:00 - 16:30
51
Comici 1


Chairlift 6

Q

Closed

12/01/21 - 04/09/22
09:00 - 16:30
52
Comici 2


Chairlift 6

Q

Closed

12/03/21 - 04/09/22
09:00 - 16:30
53
Sotsaslong


Chairlift 4

P

Closed

12/03/21 - 04/09/22
09:00 - 16:30
56
Pudra


Ski lift

I

Closed

12/01/21 - 04/09/22
09:00 - 16:30
Selva - Passo Sella
Nr.
Lift name
Type
State
Season
Hours
22
Piza Pranseies


Chairlift 2

G

Closed

12/03/21 - 04/09/22
08:30 - 16:30
29
Ciampinoi


Gondola

C

Closed

12/03/21 - 04/09/22
08:30 - 16:30
55
Sasso Levante


Chairlift 6

Q

Closed

12/03/21 - 04/09/22
09:15 - 16:30
151
Salei - Rodella


Chairlift 4

P

Closed

12/03/21 - 04/09/22
08:45 - 17:15
152
Rodella - Des Alpes


Chairlift 4

P

Closed

12/03/21 - 04/09/22
09:00 - 17:20
154
Ciavazes - Grohmann


Chairlift 4

P

Closed

12/03/21 - 04/09/22
08:45 - 16:40
156
Gabia


Ski lift

I

Closed

12/03/21 - 04/09/22
08:30 - 17:00
Image gallery: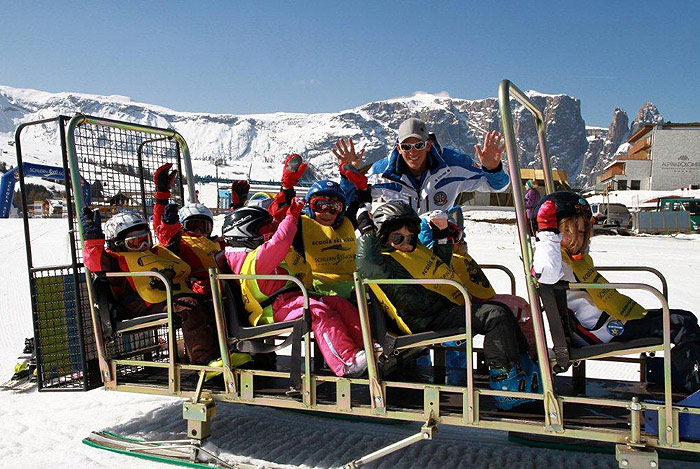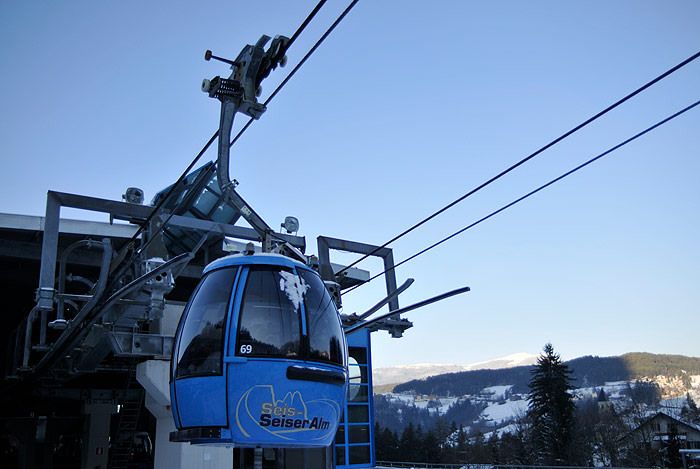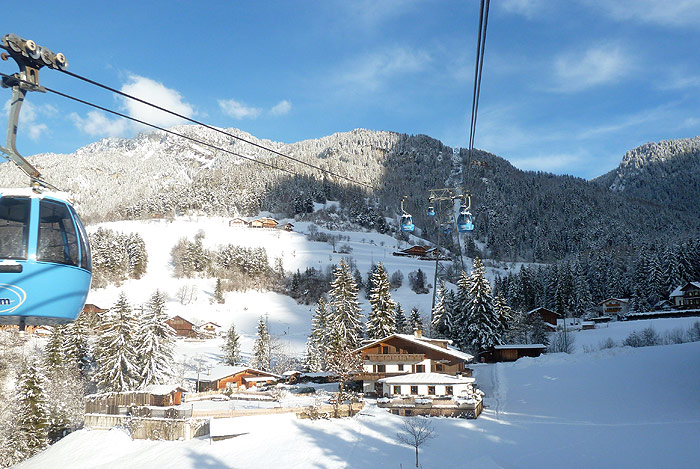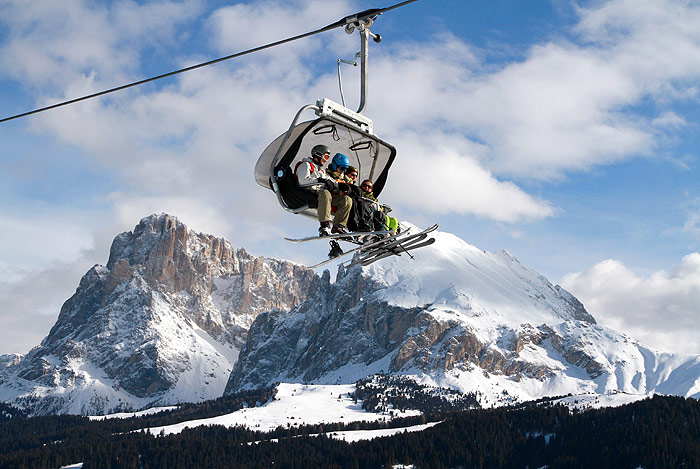 Events:
30/09/2023
Traditional Transhumance Festival on the Alpe di Siusi
01/10/2023
Transhumance in Fiè
01/10/2023 - 31/10/2023
Völser Kuchlkastl - Culinary Festival in Fiè
show all >
Weather forecast:
Accommodations in Castelrotto:
Request availability
Accommodations with near the lift facilities
Accommodations with Skibus stop
Accommodations with Ski rental